Urostomy: Caring for Your Stoma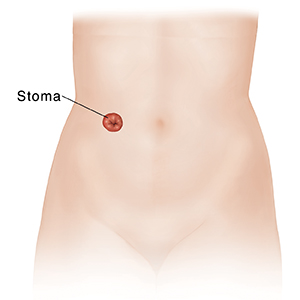 After a urostomy, you'll have to care for your stoma and the skin around it (called the peristomal skin). You must keep the stoma clean and protect the peristomal skin from moisture and urine. This will prevent skin problems and odor.
Checking the stoma
Check your stoma and the skin around it each time you change your pouch.

Stand in front of a mirror, or use a hand mirror so that you can see the entire stoma.

The stoma should look shiny, moist, and pink or red.

The skin around it should be smooth, with no red or open areas.
Cleaning the stoma
When you change your pouch, be sure to clean the stoma and the skin around it. Do this using warm water and a soft washcloth. Water does not harm the stoma.
Clean and dry the stoma gently. Because the stoma has no sensory nerves, you could injure it without feeling any pain.

The stoma may bleed a little when you clean it. That's because it has tiny blood vessels. To stop the bleeding quickly, apply gentle pressure to  the stoma using a dry cloth or tissue.

Be aware that urine will keep flowing out as you clean your stoma. You can use a folded paper towel or piece of gauze to absorb the urine.
Protect the skin around the stoma
For the pouch to stick well, the peristomal skin needs to be dry and smooth. If the skin is moist or uneven, the pouch is more likely to leak. And any urine that leaks out of the pouch can pool on your skin. This can irritate the skin. Urine that leaks from the pouch can also cause odor or be absorbed by your clothes. You can help prevent these problems by following these steps:
Be sure your skin is dry before applying the skin barrier. This helps keep the skin healthy. Always pat your skin dry after washing it. Or, try drying your skin with a hair dryer that's set on cool.

Try applying a skin barrier wipe before you put on a new pouch. This helps protect the skin if urine leaks around the pouch. A skin barrier wipe may shorten or lengthen the amount of time you can wear some pouches. Before using a wipe, check the product information that came with your pouch.
 When to see your healthcare provider
Call your Wound Ostomy and Continence (WOC) nurse or other healthcare provider if:
The skin around the stoma is red, weepy, bleeding, or has open areas.

The skin around the stoma itches, burns, stings, or has white spots.

The stoma swells, changes color, or bleeds without stopping.

The stoma sinks below its normal level or below the skin.

The stoma sticks up above the skin more than normal.