Updated Macaroni and Cheese
As many as 17 percent of American children are at increased risk for serious health problems due to obesity.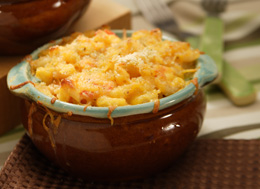 And while you may think kids are more likely to gain weight while they're in school than they are during the summer, the opposite is true.
To help your kids maintain a healthy weight this summer, keep them active and try some new low-calorie, kid-friendly recipes, like this lower-fat version of a true classic kids love.
Ingredients
2 cups macaroni

Nonstick cooking spray (as needed)

2 cups onions, chopped

2 cups evaporated fat-free milk

1 egg, beaten

1/4 tsp. black pepper

11/4 cups low-fat cheddar cheese, finely shredded
Directions
Preheat oven to 350 degrees. Cook macaroni according to directions—but do not add salt to the cooking water. Drain and set aside. Lightly spray saucepan with nonstick cooking spray. Add onions to saucepan and sauté for about three minutes. In another bowl, combine macaroni, onions, and the rest of the ingredients and mix thoroughly. Spray casserole dish with nonstick cooking spray. Transfer mixture into casserole dish. Bake for 25 minutes or until bubbly. Let stand 10 minutes before serving.
Makes eight servings
Each serving contains 200 calories, 4 g fat, 34 mg cholesterol, 120 mg sodium, 29 g carbohydrates.