Understanding Osteoarthritis
There are about 100 different types of arthritis. In general, arthritis means problems with the joints. A joint is a place in the body where two bones meet. Arthritis may also affect other body tissue near the joints including muscles, tendons, and ligaments. And, in some forms of arthritis, the whole body is involved.
Osteoarthritis (OA) is sometimes called degenerative joint disease or wear-and-tear arthritis. It's the most common type of arthritis. In OA, the cartilage wears away. Cartilage covers the ends of bones and acts as a cushion. If enough cartilage wears away, bone rubs against bone. The joint changes in OA cause pain, stiffness, and difficulty movement.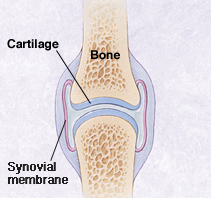 How joints work
The joint help the bones move easily. Cartilage is smooth tissue that cushions the ends of bones, letting them slide against each other. The synovial membrane surrounds the joint. It makes a fluid that lubricates the joint.
When a joint wears out
Through long use or injury, or because of a family tendency, the cartilage can become rough and damaged. It starts to wear unevenly. The ends of the bones then rub together, causing stiffness, pain, and sometimes swelling. Bony spurs may grow, enlarging the joint. The muscles around the joint may weaken