Understanding Osgood-Schlatter Disease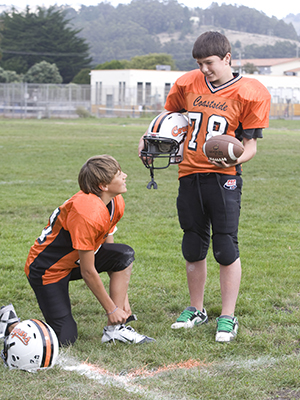 BIG: Osgood-Schlatter disease is a painful knee problem that can happen in active young people. It almost always gets better with rest and simple treatment. But you have a role to play.
What are the symptoms?
If you've felt a sharp pain below your kneecap while being active, you may have Osgood-Schlatter disease. This is a painful bump that forms just beneath the knee. It can happen in one or both knees. Other symptoms include:
A dull ache in your knee while at rest

Soreness and swelling below the kneecap

Pain with kneeling
Who develops this problem?
Osgood-Schlatter disease most often happens in boys who are 11 to 15 years old. But younger boys and some girls can have it, too. Osgood-Schlatter disease is usually caused by overusing the knee. Many kids who play sports that involve running or jumping develop this problem. These sports include basketball, soccer, football, and gymnastics.
Rest is the ticket
Osgood-Schlatter disease most often happens while you're still growing. But it's not "growing pains." It's a medical problem that needs treatment. By resting your knee and briefly changing your activity, you will most likely get better. You may also have to wear a special strap around your knee or knee padding. Stretching or strengthening exercises may help. It may also help to take over-the-counter pain and fever medicines (nonsteroidal anti-inflammatory drugs or NSAIDs). Only in rare cases will you need further treatment to heal. Just focus on giving your knee a little time and a lot of rest.
Note to parents
Osgood-Schlatter disease may briefly slow your child down. But the knee often heals with self-care. It's crucial that your child rest his or her knee. Rest speeds healing and helps keep the problem from getting worse. Taking care of it now may prevent the need for corrective knee surgery in adulthood. Call your child's healthcare provider if you have any questions or concerns about Osgood-Schlatter disease.