Treating Plantar Fasciitis
First, your healthcare provider tries to find out the cause of your problem. He or she can then suggest ways to ease pain. If your pain is due to poor foot mechanics, occasionally custom-made shoe inserts (orthoses) may help.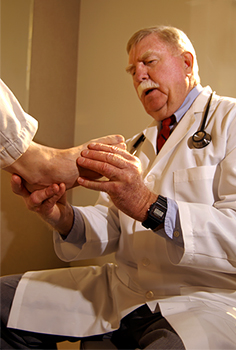 Ease symptoms
To relieve mild symptoms, try aspirin, ibuprofen, or other medicines as directed. Rubbing ice on the area may also help.

To lessen severe pain and swelling, your healthcare provider may give you pills or injections. In some cases, you may need a walking cast. Physical therapy, such as ultrasound or a daily stretching program, may also be recommended. Surgery is rarely needed.

To ease symptoms caused by poor foot mechanics, your foot may be taped. This supports the arch and temporarily controls movement. Night splints may also help by stretching the fascia.
Control movement
If taping helps, your healthcare provider may prescribe orthoses. These are inserts built from plaster casts of your feet. They control the way your foot moves. As a result, your symptoms may go away.
Reduce overuse
Every time your foot strikes the ground, the plantar fascia is stretched. You can lessen the strain on the plantar fascia and the chance of overuse by:
Losing any excess weight

Not running on hard or uneven ground

Using orthoses, if recommended, in your shoes and house slippers
If surgery is needed
Your healthcare provider may consider surgery if other types of treatment don't control your pain. During surgery, the plantar fascia is partially cut to release tension. As you heal, fibrous tissue fills the space between the heel bone and the plantar fascia.