Treating Blepharitis: Self-Care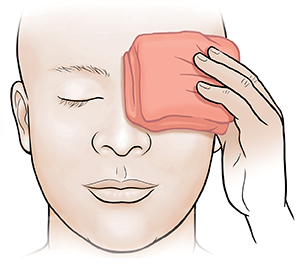 To treat the problem, keep your eyelids clean. Warm compresses can reduce redness and swelling, and help clean your eyelids, too. You may also need to wash the area gently with an eyelid scrub when you wake up.
To apply a warm compress:
Wash your hands with soap and warm water.

Wet a clean washcloth with warm water. Then wring it out.

Close your eyes and place the washcloth over your eyelids for 3 to 5 minutes. This helps loosen scales or crusts.

Wet the washcloth again as often as needed to keep it warm.
Repeat 2 or more times a day. Use a clean washcloth each time.
To use an eyelid scrub:
Wash your hands with soap and warm water.

Use a ready-made eyelid scrub. Or mix 3 drops of baby shampoo in 1/4 cup of warm water.

Dip a lint-free pad, cotton swab, or clean washcloth in the scrub.

Close one eye and gently scrub the base of the eyelid.

Rinse the lid in cool water and dry with a clean towel.

Repeat on your other eye.