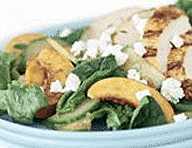 Teriyaki Chicken and Mango Salad
Marinade
1/4 cup low-sodium soy sauce

1/4 cup honey

1 teaspoon garlic, finely chopped

1 teaspoon fresh ginger, finely chopped

1 teaspoon toasted sesame seeds
Salad
1 boneless chicken breast

3 ounces fresh shiitake mushrooms

6 cups mixed baby lettuce greens

2 mangoes, peeled, pitted, and cut into thin slices

2 scallions, thinly sliced

1/2 cup fat-free poppy-seed salad dressing
Directions
Combine marinade ingredients in a resealable plastic bag and shake to blend. Add chicken and turn to coat. Seal bag and refrigerate for several hours or overnight, turning the bag at least once. Remove chicken from marinade and place over moderately hot coals on a grill coated with cooking spray. Cook for six to nine minutes, turning every three minutes or so, until brown on the outside and no longer pink inside. Remove from grill and allow to cool before cutting into thin slices. Remove and discard stems from mushrooms. Slice into thin slices. Lightly coat a medium-sized nonstick skillet with cooking spray and preheat over medium heat. Add mushrooms and cook for one to two minutes.
To serve, combine the chicken, mushrooms, greens, mango, and scallions in a salad bowl. Add the dressing and toss gently to coat.
Serves four
Each serving contains approximately 303 calories, 3 g fat, 52 mg cholesterol, and 673 mg sodium.