Teenagers and After-School Jobs
The teen years are a constant quest for freedom and independence from the watchful eyes of parents. It's also a time to learn responsibility and how to manage money. An after-school job can provide all these experiences for a teenager.
Finding work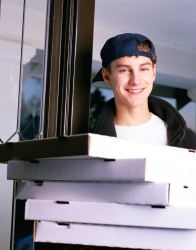 Savvy teens who want to earn money with a part-time job after school hours may have a variety of options, even within their own neighborhoods. Neighbors with younger children are often happy to hire a responsible, experienced teen as a regular babysitter. Teens can take care of neighborhood pets, too, walking dogs and changing food and water. They can offer lawn-care services or deliver newspapers. Other job opportunities include working in retail stores or restaurants and as lifeguards or counselors at camp or after-school programs at elementary and middle schools.
Finding a balance
High school can be a major stressor for teens because of the extra homework, challenging classes, and college preparation, as well as social activities, sports, and extracurricular events. Adding an after-school job to the mix can help teens learn valuable time management and organizational skills, but it can be a struggle as they try to fit in all their commitments.
Helping your teens stay on top
As teens take on more responsibility and their schedules fill up, parents can help teach time management and stress management techniques and organizational skills.
Here are ideas that may help teens learn to successfully manage school, a social life, and work:
Make a daily schedule. Jot down daily scheduled activities, including school, sports practices and other extracurriculars, as well as work times.  Have your teen add homework to the schedule and make sure he or she has enough time left in the week for fun with friends, exercise, and relaxation.

Create regular to-do lists and prioritize responsibilities. Stress to your child that schoolwork comes first, and that it's OK if the lower-priority tasks don't always get done.

Plan break times. Make sure that your teen isn't booked from sunrise to bedtime each day. Allow for some free time during the week and on weekends to avoid burnout.

Say no to the things you can't do. Teens often feel like they have endless energy, but they shouldn't take on too much.  Encourage your teen to turn down invitations and opportunities that he or she just doesn't have time for.
Living a healthy lifestyle can help teens manage the stress of work and school. Encourage your teen to make an effort to:
Exercise regularly.

Eat a nutritious, healthy diet.

Ease up on caffeine and high-sugar foods and beverages.

Get plenty of sleep each night.

Avoid the temptation to try alcohol or drugs.
Look out for burnout
Teens can become stressed and run down, and part of a parent's support is to look for warning signs and help teens rein in their schedule.
Teens who are too busy may:
Suffer from slipping grades

Become irritable or anxious

Experience physical problems such as frequent headaches or stomachaches

Feel sad, down, or depressed
With a parent's careful guidance, having an after-school job can help teens learn to manage time and money and provide a well-earned sense of confidence — all great lessons that will carry through to adulthood.