Talking With Your Healthcare Provider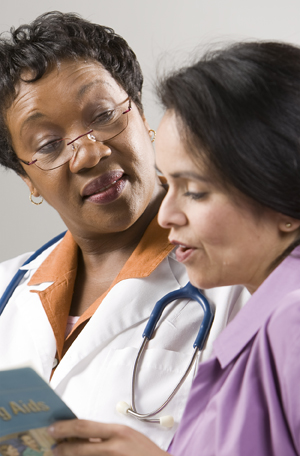 Telling your healthcare provider (HCP) about yourself will help improve your care. And ask questions when you don't understand something, or just want to know more. Don't be afraid to speak up! Good communication with your HCP helps you get the most out of your healthcare.
Talk about your lifestyle
All sorts of things can affect your health. So your HCP needs to know about your daily life.
Tell your HCP
Make sure to include the following: 
Where you work and what you do

Whether you live alone or with others

About your eating and sleeping habits

Whether you get regular exercise

If you drink alcohol or smoke

If you are under a lot of stress

If you are dealing with a major life change such as marriage, divorce, or retirement

Your health and wellness goals
Share your symptoms   
Symptoms are a change from what's normal. They suggest illness or injury. If you notice a change in the way your body looks, works, or feels, tell your HCP.
Tell your HCP
Make sure to include the following: 
The type of symptom, such as pain, fever, nausea, or weakness

When your symptoms started

How often you have symptoms

Whether your symptoms wake you up at night

Whether you have symptoms at a certain time of day or while you are doing specific things

How bad your symptoms are

Whether your symptoms interfere with your daily activities and, if so, how

Whether other family members or people you spend time with have similar symptoms

Whether your symptoms are getting better or worse

Whether you have had these symptoms before

Whether you have other symptoms
Discuss your diagnosis
A diagnosis identifies the cause of an illness or the reason for symptoms. Be sure you understand your diagnosis. This will make it easier for you and your HCP to reach decisions about your treatment and care.
Ask your HCP
Suggestions of questions you can ask include:
The name of the condition

The cause of the condition

How long the condition will last

Whether there will be any long-term effects

What you can do to prevent the condition in the future

How you can learn more about the condition

If the condition is contagious
Ask about medical tests
Medical tests include things such as blood tests and X-rays. If you have a medical problem, tests can give your healthcare provider more information. Tests can also uncover hidden health problems.
Ask your HCP
Suggestions of questions you can ask include: 
Why you need the test

What the test results will show

If there are any risks

How accurate the test results will be

How much the test will cost and if there is a less expensive choice

How the test is done and how long it will take

What you need to do to get ready for the test

How you will feel after the test

If you will be able to drive yourself home
Think over your treatment choices
Many medical conditions can be treated. Your HCP may recommend a certain treatment. But it's a decision you need to make together.
Ask your HCP
Suggestions of questions you can ask include:
About all your treatment choices, including diet, exercise, medicine, and surgery

How much treatment will cost

How soon you should start treatment

How long treatment will last

Whether there are risks

What will happen if the condition is not treated
Ask about prevention
The goal of prevention is to keep from developing diseases or conditions. It's easier to prevent illness than it is to cure it. Talk to your HCP about what you can do to keep yourself healthy.
Ask your HCP
Suggestions of questions you can ask include:
How often you should come in for checkups

Whether you should get shots to prevent disease

How often you should get screening tests

When and how will you receive test results 

Whether you should make any lifestyle changes