The Surgical Team
When a patient undergoes surgery, a team of medical staff assists the surgeon in the procedure. The number of team members differs depending on the type of surgery performed. Among others, most teams include: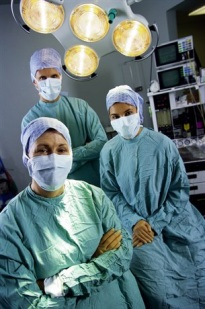 The surgeon
A surgeon has completed four years of medical school and has received four or more years of further specialized training after medical school. Most surgeons have passed exams given by a national board of surgeons for "board certification." In addition, some surgeons have the letters F.A.C.S. behind their name. This means they passed review by the Fellows of the American College of Surgeons (FACS).
The anesthesiologist
An anesthesiologist has completed four years of postmedical school training in anesthesia, in addition to the required four or more years of medical school. Anesthesiologists usually further specialize in certain surgery specialties, such as neurosurgical anesthesia or cardiac anesthesia. The anesthesiologist is involved in all three phases of surgery: preoperative, intraoperative, and postoperative management.
The certified registered nurse anesthetist (CRNA)
The nurse anesthetist provides anesthesia cares of the patient before, during, and after surgical or obstetrical procedures. The nurse constantly monitors every important function of the patient's body and can modify the anesthetic to ensure maximum safety and comfort. A nurse anesthetist has a bachelor's degree in nursing, followed by a minimal of a master's degree from an accredited nurse anesthetist program. Nurse anesthetists are required to pass a national certification examination to become CRNAs.
The operating room nurse/circulating nurse
Registered nurses are registered and licensed by the state to care for patients. Some nurses concentrate in a specialized field, such as surgery. The operating room nurse assists the surgeon during surgery. Operating room nurses are certified in various surgical areas.
Surgical tech
Surgical techs assist with the surgical procedure by setting up a sterile environment, preparing supplies and surgical tools, and handing the surgeons requested instruments. They are typically credentialed by the National Board of Surgical Assisting (NBSTA).