Surgery Coloring Sheet for Kids: People You See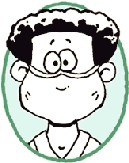 Many people take care of you. They wear masks over their mouths and noses and hats on their heads. This helps keep everything very clean.
The nurse takes care of you and helps the doctor.

The sleep doctor (anesthesiologist) makes you sleep during surgery.

The surgeon is the doctor who does the surgery to make you better.