Stroke: Taking Medicines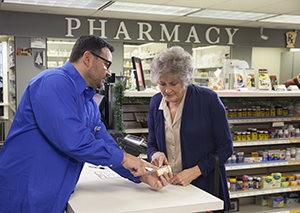 Your doctor has given you medicines to reduce the risk of a stroke. But they won't help unless you take them as prescribed. This sheet explains why and how to take your medicines.
How your medicines help you
They make you feel better so you can do more things you enjoy.

They keep your blood from clotting, which helps to prevent stroke.
Types of medicines
Many types of medicines can help prevent stroke. You may be prescribed one or more of the following:
Anticoagulant ("blood thinning") medicines help prevent blood clots from forming. If you take a blood thinner, you may need regular blood tests.

Antiplatelets such as aspirin or clopidogrel are prescribed for many people who have had a stroke. They make blood clots less likely to form. Aspirin is available over-the-counter.  

Blood pressure medicines help lower high blood pressure. You may need to take more than one blood pressure medicine. 

Cholesterol-lowering medicines make plaque less likely to build up in your artery walls, which can decrease the risk for stroke.

Heart medicines can treat certain heart problems that increase your risk for stroke.

Diabetes medicines adjust blood sugar levels. This can prevent problems that lead to stroke.
Know which medicines you take
To help keep my blood from clotting,
I take:__________________________________________
To keep my blood pressure lower so it's easier for my heart to pump,
I take:__________________________________________
Tips for taking medicines
Below are tips for taking medicine. Keep in mind that most medicines need to be taken every day. This means even when you feel fine. Ask your doctor if you need to not eat certain foods or drink alcohol. Also mention if you have problems affording medicine.
Have a routine. Take medicine at the same time each day. Use reminders to help stay on track. Some people find using a pill box to organize medicines helpful for this. 

Take all your medicines. Some work best when used with others. Don't take one type and skip another.

Plan ahead. Refill prescriptions before they run out. Be sure to take medicines along if you travel.

Never change your dosage or stop taking medicine on your own. And if you miss a pill, don't take 2 the next time.

Tell your doctor if any medicines causes side effects. Your doctor may change your dose or prescribe a new medicine.

Carry a list of your medicines. Bring the list to appointments with healthcare providers.
For family and friends
Medicines can play a key role in preventing stroke. This is especially true for people who have already had a stroke or transient ischemic attack (TIA). To provide support:
Make sure your loved one knows how the medicines work and when to take them. Check often to make sure they're taken as directed.

Know whether any medicine reacts with certain foods or alcohol.

Watch for side effects. Call the doctor if any medicine causes excess bruising, nosebleeds, dizziness, or blurred vision.
When to call your healthcare provider
 Contact your provider right away if you:
Have side effects, such as dizziness, nausea, muscle cramps, headache, coughing, swelling, or a skin rash.

Are gaining weight.

Miss a dose of any of your medicines for a prolonged length of time.