Educating with Online Materials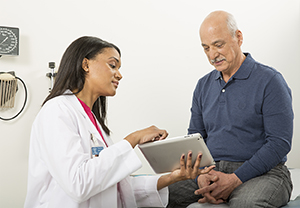 In this era of the empowered patient, you may have some patients who come to you with stacks of printouts from the Internet. But as you know, the quality of content is critical when choosing and using medical information from online and other media sources. Referrals to websites can't substitute for your personalized advice or recommendations.
Choosing online resources
As a healthcare provider, you are committed to providing patients with information that is trustworthy. When suggesting websites, offer those that rely on objective, independent sources of content, rather than sites built to promote a specific treatment or procedure. Refer patients to sites managed by medical associations or government agencies, such as the NIH. Look for sites with:
Privacy policies that are easy to find and understand

Clear disclosure of site ownership and financial contributions

An obvious distinction between advertising and health information

Content written by reputable healthcare professionals or organizations

Content that is reviewed by clinical peers and updated frequently
Using online resources
Before you recommend a website to patients, take a few minutes to review the site and become familiar with its content, approach, and philosophy. Check any links to make sure they work and that their content is appropriate. Make a mental note of any discrepancies between what a site may recommend and your own treatment practices, so you're ready to answer a patient's questions.
Choosing video and audio
Short and to the point works best for video (5 to 15 minutes). Look for videos that are culturally sensitive to your patient population. If your practice involves teaching step-by-step instructions, video can recoup time spent doing repeat demonstrations for you and your staff. If visuals aren't needed, such as for a relaxation tape that teaches guided imagery, audio can be used just as effectively, and can be less expensive.
Using video and audio
When medical content is intimate, such as for HIV testing or sexual dysfunction, you'll build trust and rapport by providing a private place for viewing video. General videos on diet or exercise can be played in a waiting room, where it's actually beneficial for other patients to hear, as well. Both video and audio maximize your patient communication by motivating patients toward difficult changes like quitting smoking or losing weight. They extend the time you and your staff can spend with patients, especially when you give out tapes or loan them to patients to take home.