Communicating More Clearly with Patients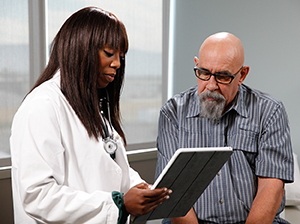 There's only so much you can do in a typical office visit. Use these tips to help you maximize each patient encounter so you can get your message across quickly and clearly without wasting time or having to repeat explanations. You can apply most of these principles to both verbal and written communication with patients.
Keep content simple
Health literacy level. Up to 90 million Americans have limited literacy and numerical skills, and you can't always tell which patients those are. Even well-educated people may misunderstand when stressed or ill. Speak with all patients using simple language. Keep words and sentences short, and avoid confusing or overwhelming medical jargon.
English proficiency. Provide patients who have limited English proficiency with language assistance services such as bilingual staff and interpreter services, at all points of contact. For healthcare organizations receiving federal funds, the provision of these language services—during all hours of operation and at no cost to the patient—is mandated by the federal government. Avoid using family members as interpreters or translators to preserve patient confidentiality and comfort.

Key concepts. Highlight key concepts, and don't be afraid to repeat them. Provide printed materials that support the concepts you want patients to learn. Such materials supply consistent information for patients and families to refer to at home.
Clear focus and goals. Focus on one goal or behavior change for each patient visit. Keep this primary goal in mind, and keep it central in your communication.
Small, logical steps. Be sure to break down any new behaviors, such as how to do a back exercise correctly, into simple, logical steps.
Interactivity. People learn best when they feel personally involved. If possible, let the patient demonstrate a new skill for you. Perhaps your office can organize patient support groups where patients can share their successes and challenges.
Use visuals
Convey key messages. Drawings, visuals, and anecdotes can reinforce key content you want a patient to remember. Illustrations help put abstract medical information into the context of a person's real life.
Give clear instructions. Some people learn visually. Pictures depicting step-by-step instructions, such as the process for injecting insulin, can be valuable.
Bridge language barriers. Visuals reach patients whose cultural realities are different from your own. For example, even if all your verbal examples of low-fat foods aren't understood, the pictures can be.
Motivate patients. Seeing positive images of other patients making a behavior change boosts motivation, just as seeing the results of a successful medical procedure reduces fear or worry.