Overcoming Barriers to Caring for People with AIDS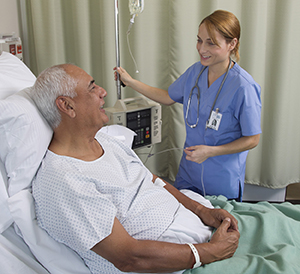 Any fears, conflicts, and concerns you have about HIV and AIDS can affect the care you give your patients. To address these conflicts and concerns, look to your facility's in-house programs. These programs are there to help you learn facts and overcome fears. Community resources are also available to help you, your family, and your friends learn more about HIV and AIDS.
Remember: Knowing the facts, resolving concerns, and getting support are the best ways to overcome any barriers you have in caring for people with HIV and AIDS.
Work resources
AIDS support groups are places to share experiences and concerns. They provide opportunities for grieving and information on how to cope with the loss of patients. Discussions in these groups are strictly confidential.

In-service programs can provide you with updates on medical advances. Some are offered as continuing education courses.

Stress reduction workshops, while they may not focus on caring for people with HIV and AIDS, can help you cope with stress. They often teach relaxation techniques such as visualization (picturing yourself in a peaceful setting).
Resources in your community
The National AIDS Hotline (800-232-4636) is a service of the CDC and provides answers to questions about AIDS. Information can also be found at http://www.cdc.gov/hiv.

Local health agencies offer information and referrals and are good resources for family and friends. Your public library, hospital library, and state department of public health are other excellent sources.

The U.S. Department of Health and Human Services offers the most up-to-date, federally approved information about HIV and AIDS at http://www.aidsinfo.nih.gov/ and http://aids.gov/. 

The Health Resources and Services Administration's HIV/AIDS Bureau promotes HIV and AIDS care and provides information for patients and clinical caregivers at http://hab.hrsa.gov/.