Spinal Cord Injury: Treatment and Rehabilitation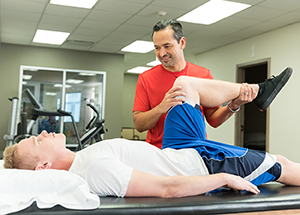 Treatment of a spinal cord injury starts at the place of the accident and continues in the emergency room (ER). The injured person will then be admitted to the hospital or will be moved to a spinal cord injury treatment center. 
Treatment
Once vital signs and heart rate are stabilized, there are additional procedures that can be vital in treating spinal cord injuries:
Relief of pressure on the spine. This is done using surgery or traction (a mechanical system of weights).

Treatment to stabilize the spine. Screws, metal plates, and other devices may be placed during surgery. In some cases, traction or a brace may be used instead.
Rehabilitation
First the injury is stabilized, either with surgery, bracing, or both. Then, supportive care and rehabilitation (rehab) are the goals. Supportive care helps prevent other health problems which may include skin sores. Rehab supports a person's emotional and physical recovery. It includes:
Physical therapy. This supports strength and movement in muscles and joints. It may help some people with spinal cord injuries regain some function.

Counseling. Spinal cord injury can have permanent effects. Counseling helps the injured person and loved ones cope and adjust.
Outlook for the future
It was once believed that damaged nerve cells couldn't be repaired. But recent studies show this may not be true. Now, scientists are searching for ways to regrow injured nerves. The outlook for people with spinal cord injuries is brighter today than ever before.
For more information
To learn more about spinal cord injuries, contact:
National Spinal Cord Injury Association  800-962-9629  www.spinalcord.org