Spinal Cord Injury (SCI): Home Modifications
Having a spinal cord injury means that your mobility has changed. Because of this, your home may need some changes, too. It will need to be set up in a way that allows you to do your activities of daily living (ADLs), such as personal care. Home modification can mean small changes, such as new door handles that are easier to grip and turn. Or it may mean larger changes, such as installing a new entryway. You will need to think about how to adapt your home to best suit your needs. This is a big task, but you will have help along the way.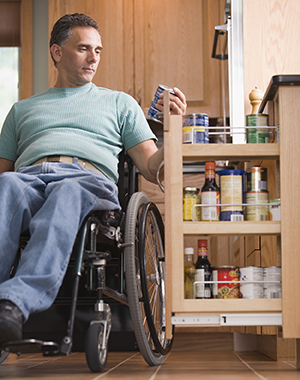 Thinking About Your Needs
Do you live in a house or apartment? Will you be living alone or with family or friends? What kinds of tasks do you want and need to do at home? What kind of movement do you have? These are questions you will need to ask when thinking about home modifications. Your SCI care team will talk with you about these kinds of questions. They will help you determine what changes need to be made to your home to make it right for you.
Assessing Your Home
If needed, members of your SCI care team may visit your home to observe, measure, and record. They will determine what areas are within the guidelines laid out for safe home living for a person with your physical abilities. Or, you or your family may be given a survey to fill out about your home. A list of needed changes and modifications will be made. Some of these may include:
Adding ramps, elevators, or lifts for entries, exits, and thresholds

Putting down non-skid surface materials

Widening doors and hallways

Changing heights of outlets, storage, and counters

Adapting the bathroom to allow for easier toileting and bathing

Adapting the bedroom for easier access to the bed

Adjusting or changing appliances so they work with your needs

Organization of space to allow for a wheelchair to move safely
Making the Modifications
You can choose to hire a repairperson for small changes, such as installing new doorknobs or shelving. Larger work, such as widening hallways and doorways, may need to be done by a general contractor.
Paying for Home Modifications
Of course, making these changes costs money. Financial aid may be available. Veterans may be able to apply for certain government grants to modify the home after injury. There are also non-profit groups that offer assistance. Ask your SCI care team for information about how to apply for these resources.
A Work in Progress
Keep in mind that adapting your home to best meet your needs is a work in progress. Keep note of any problems as they occur. Talk with your SCI care team about what works and what doesn't. They can help suggest more adjustments in your home as needed.
Resources
For more information about SCI, go to:
AbleData www.abledata.com

The National Spinal Cord Injury Foundation www.spinalcord.org

Christopher and Dana Reeve Foundation www.christopherreeve.org

Paralyzed Veterans of America www.pva.org

National Council on Independent Living (NCIL) www.ncil.org

WheelchairNet www.wheelchairnet.org