Spinal Cord Injury (SCI): Adjusting After Discharge
After your spinal cord injury (SCI), you were likely cared for in a hospital or other facility. Here, healthcare providers monitored you around the clock. You had daily routines and schedules. You had help as you recovered and learned the skills you need to stay healthy. When you're discharged, it can be difficult to leave the security of this structured living situation. You need to provide for your needs, make your own routines, and make decisions about how you need and want to live. The transition back into your daily life after SCI can be a challenge. Your healthcare team is prepared to help you with this transition. Remember that you have already faced many challenges, and you can handle these too.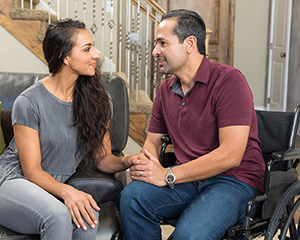 Moving back into your life
After discharge, it is common to feel overwhelmed. To help you cope during this time:
Stay involved in your care and keep all appointments with your healthcare and rehab team. Continue using the skills you learned during your rehab. When you face a new task or situation, remember how you managed challenges during your initial recovery.

Take large tasks and break them into smaller, more reasonable goals. As you reach each goal, set a new one. In this way, you will build the skills you need to face even the biggest challenges.

Stay positive. Take note of every success, met goal, and step in the right direction, no matter how small. Think of these anytime you feel discouraged.

Use the daily self-care skills you learned during rehab. These are the tasks you need to do every day to keep your body healthy. Follow your treatment care plan, including bowel and bladder care, transfers, and taking medicines.

Structure your day. This can help make your transition from the facility easier. Make schedules for yourself around your care plan.
Don't go it alone — get help!
Know that you have help. Look to your healthcare providers that helped you during rehab. After your discharge, ask them to help you problem-solve as needed. Your healthcare team can offer resources, suggestions, and support. Never hesitate to ask questions. As you encounter new situations, you will likely have new concerns. Also accept encouragement, support, and assistance from your loved ones. And, if at any time during this process you find that you're having trouble coping with your injury, are becoming depressed, or are anxious or worried about the future, tell your healthcare provider.