Soleus Stretch (Flexibility)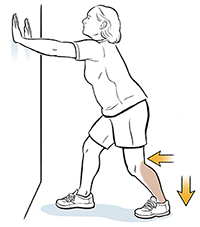 Stand facing a wall from 3 feet away. Take one step toward the wall with your right foot.

Place both palms on the wall. Bend both knees and lean forward. Keep both heels on the floor.

Hold for 30 to 60 seconds. Then relax both legs. Repeat the exercise 2 times.

Switch legs and repeat.

Repeat this exercise 3 times a day, or as instructed.
Tip: Don't bounce while you're stretching.