Skillet Zucchini with Chopped Tomatoes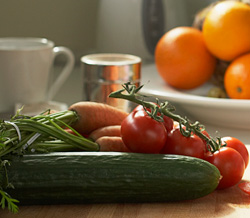 Ingredients
1 tsp. whipped light butter or olive oil (for vegetarian)

1 cup chopped onion

4 small (6 in./15 cm) zucchinis, thinly sliced

2 medium tomatoes, chopped

Freshly ground pepper
Directions
In a large nonstick skillet, melt butter over medium heat; add onions and cook, stirring until softened. Add zucchini and cook for two minutes. Add tomatoes and cook for three to five minutes or until zucchini is tender-crisp. Season to taste with pepper.
Makes about four servings
Each serving contains about 50 calories, 1 g fat (Saturated fat 1 g), 0 mg cholesterol, 20 mg sodium, 11 g total carbohydrates, 3 g dietary fiber, 5 g sugars, 2 g protein.