Sinus Headaches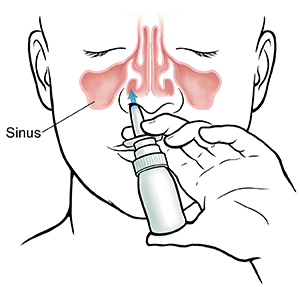 Sinus headaches can cause a gnawing pain behind the nose and eyes. The pain most often gets worse in the afternoon and evening. You may also run a fever. Sinus headaches are caused by colds or allergies that make the nasal passages inflamed or infected.
To help prevent sinus headaches:
Treat colds promptly to keep mucus from backing up.

Avoid things that trigger sinus problems, such as pollens, dust, smoke, fumes, and strong odors.

Take allergy medicines as directed by your healthcare provider.
To relieve the pain:
Keep your sinuses open and free of mucus. Try over-the-counter sinus rinse products.

Use a nasal decongestant as directed to reduce the inflammation.

Drink fluids to keep the mucus thinner. This helps it drain more easily. You can also use a humidifier.

Apply hot packs to the area around your sinuses. Use a hot water bottle.

See your healthcare provider if your sinus headache lasts more than 2 weeks. You may need medicine for a sinus infection or an exam to check for other headache conditions, like migraines.