Signs of Addiction: Social Use
Not everyone who takes a drink or tries a drug has a substance abuse problem. But for some people, what starts as social use can lead to problem use (abuse) and then addiction. Some people can have a drink or use another substance and then stop. They don't think about drinking or using again for a while. For some this will never lead to heavier use. For others, it may.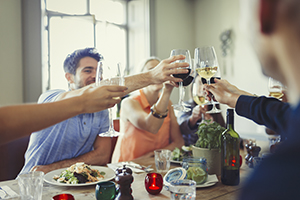 You can take it or leave it
You have a drink at a party or a glass of wine with dinner.

You tried a street drug a few times, but have no interest in using it repeatedly. 

You take medicines only when needed and only as directed.

You don't think about using or plan the next time you'll use.
Using is still a choice
A social user can choose to say yes or no any time. This person is in control of his or her substance use. Think about these statements:
I can put down a drink without finishing it.

I can enjoy myself at a social event without using.

I can go without using or thinking about using.
If this describes you, you're most likely a social user. But ask yourself, can you really take it or leave it? You might try for a few weeks or even a month. If you find it hard or you just can't do it, maybe you need to think about your use again.