Shoulder Abduction (Flexibility)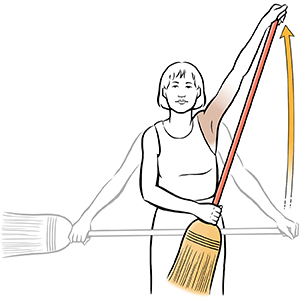 Stand up straight. Or lie on your back on the floor with legs straight. Hold a broomstick horizontally. Cup the top of the broomstick with your right hand. Hold the broomstick just above the broom with your left hand, palm facing down.

Push the broomstick to the right with your left hand, raising your right arm up. Raise it only as high as feels comfortable.

Hold for a few seconds. Return to the starting position.

Repeat 3 to 5 times, or as instructed. Build up to holding each stretch for 10 to 30 seconds.
Tip: If you don't have a broom, you can also do this exercise with a cane, mop, or yardstick.