Sexuality and Spinal Cord Injury (SCI)
Sex is a normal and healthy part of life. This is true for people with and without spinal cord injury (SCI). An SCI can change many aspects of sexual functioning. But people living with SCI can have satisfying intimate relationships. Talk with your healthcare team and get answers to any questions you have about this issue.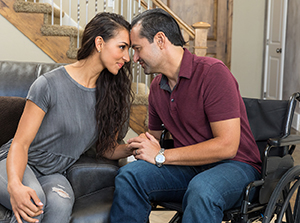 You are a sexual being
People are born sexual. They remain sexual beings throughout their lives. A disability does not change that. It is never too early in your rehabilitation to think about, talk about, and explore issues around sexuality. If you have a partner, talk about your hopes and concerns. You may want to experiment to find out what feels good and how you can both have pleasure. If you don't have a partner and are able to do so, explore your body yourself to learn how your responses have changed.
Intimacy is more than sex
After an SCI, your body has changed in many different ways. Time and support from others can assist with adapting to these changes. Emotional intimacy, closeness, desire, and love can be had with and without sex. Talk, share feelings and experiences, gaze at each other, and touch and caress each other. Establish and maintain emotional intimacy. This may help you feel more comfortable exploring physical ways to express your closeness. Focus on more than the sexual organs. Use all of your senses: sight, touch on other parts of your body, and imagination. The most important thing is to keep talking with your partner about what you both need and want.
Learning about sexuality and SCI
Living with SCI requires people to talk more often and to more people about personal topics. Sex is one of those topics. It is up to you how much you want to discuss and explore this issue. Your healthcare providers are trained to help you with this. They can be a great source of information. If you don't feel comfortable speaking up, start by making a written list of questions or concerns you have. Then give this list to your provider. If you don't get what you need at first, keep trying. Find a person in your team who you feel at ease talking with so you can get the guidance and support you need.
Questions you may have
When it comes to sex, you are likely to have many concerns. You may have questions about changes in function. These include erections, ejaculation, and orgasm. They also include fertility, pregnancy, pre-natal care, and sexually transmitted infections. And you may want to know more about positioning, managing your bladder and bowel, or special precautions you need to take. Your healthcare providers can help with all these issues. For example, some adaptive equipment or medications may be available for you. Don't hesitate to bring up any of these issues and be sure to get the answers you need.
Resources
For more information about SCI, go to:
The National Spinal Cord Injury Foundation www.spinalcord.org

Christopher and Dana Reeve Foundation www.christopherreeve.org

Paralyzed Veterans of America www.pva.org