Self-Care for Temporomandibular Disorders (TMD)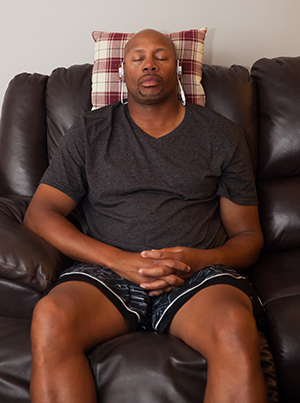 You have temporomandibular disorder (TMD). This term describes a group of problems related to the temporomandibular joint (TMJ) and nearby muscles. The TMJ is located where the upper and lower jaws meet. Treatment will get your jaw back to normal function. But your care doesn't end there. Once you've had TMD, it's important to avoid reinjury. Get in the habit of doing self-checks. This can make you aware of any symptoms that begin to return, so you can take action right away.
Doing self-checks
Make it a habit to assess your body a few times each day. Try writing yourself a reminder. Or set an alarm on your watch or computer. When doing a self-check, ask yourself:
Do I feel stressed?

Are my muscles tense?

Am I grinding or clenching my teeth?

Is my posture healthy for my body?

Is there anything I can do to make myself more comfortable?
If you answer yes to any of the questions above, you need to take action. Changing your posture or taking a short break can help prevent or relieve TMD symptoms.
Listening to your body
Many people get used to ignoring pain. But pain is a signal that your body needs care. To maintain your TMJ health:
Don't eat hard or chewy foods. Even if you feel fine, eating such foods can trigger symptoms again.

Be aware of your body. Don't ignore TMD symptoms. The nagging pain in your neck or jaw may be a sign that you need care.

Keep follow-up appointments. Be sure to keep all appointments with your healthcare team.                                                                                                                              
Managing stress
Stress is a key factor in TMD. Stress can make you clench your muscles or grind your teeth. It can also affect your sleep, reducing your body's ability to heal. Here are a few tips to manage stress:
Learn ways to relax. Try listening to music or gently stretching. Take a few slow deep breaths. Or, close your eyes and imagine a place or object that is calming.

Get plenty of rest and sleep.

Set goals you know you can attain.

Make time for people and things you enjoy.

Ask for help if you need it. Friends and family can run errands and cook meals for you. 
Staying active
Activity helps the body in many ways. You stay looser and more relaxed. It also helps keep muscles and tissues conditioned. That way you can heal faster and make reinjury less likely. Here are some tips to get you started:
Talk with your healthcare provider before starting an exercise program.

Always warm up and stretch before each activity. This helps prevent injury.

Try walking or swimming. These activities are easy on your joints. They also benefit your heart and lungs.

Try yoga or tai chi. These are relaxing activities known for reducing stress.