School-Based Occupational Therapy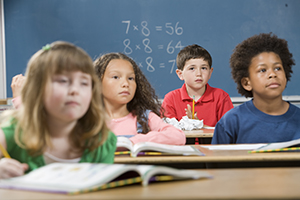 School-based occupational therapy is a type of help given to children at school to help them be more successful. Your child may be able to get this type of help if he or she qualifies under the Individuals with Disabilities Education Act (IDEA).
An occupational therapist (OT) will look at your child to figure out whether he or she needs help at school. The OT will watch your child in school, evaluate your child's performance, and talk with other healthcare professionals and with teachers. If the OT feels your child needs help, he or she will recommend a plan to help your child learn, play, and interact in a more fulfilling way with other children at school.
Why your child might need occupational therapy
Studies show that occupational therapy at school is helpful for children with disabilities. This is especially true when therapy is started early and the OTs work closely with teachers.
Here are some of the types of disabilities that can be helped:
Physical limitations

Delayed development

Learning disorders

Speech or language problems

Hearing or visual problems

Behavior or emotional problems
Attention-deficit/hyperactivity disorder (ADHD) is an example of a behavior disorder that may be helped by occupational therapy. According to the CDC, ADHD affects about 11% of school-aged children. ADHD is recognized under IDEA. If your child has ADHD, an OT may recommend special educational programs to help your child learn how to get organized and limit distractions at school.
Autism is an example of a developmental disability that can be helped by occupational therapy under IDEA. If you child has autism, an OT may create a quiet work space in the classroom. Your child's school schedule can also be changed to help make school events more predictable and less stressful.
The role of the occupational therapist
School-based OTs are state-licensed professionals with special training in child development. Occupational therapy may also be given by certified occupational therapy assistants under the guidance of OTs.
Here are some of the things they can do for your child:
Match your child's abilities to the tasks needed at school

Meet with you and your child's teachers to give recommendations and progress reports

Help your child get organized so he or she can get assignments done on time

Help your child with physical skills like handwriting and self-care

Make changes in your child's classroom and desk area to make learning easier

Use special devices and learning materials to help your child
Caregiving for special needs at home may also be part of your child's treatment plan. Your child's OT may suggest things you can do at home to help your child at school. These could include planning time for homework, making sure your child gets enough sleep, and making sure your child gets a good breakfast.
If you have a special needs child, learn as much as you can about your child's disability. Stay involved with your child's treatment plan at school. If you feel that your child's needs at school are not being met by the school, talk to the special education director for your child's school district.