Safety Tips for Bathing Your Baby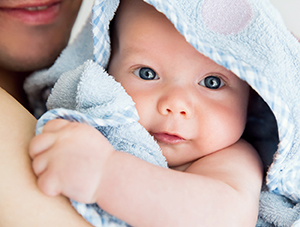 Decide where you are most comfortable bathing your baby and gather your supplies ahead of time. You will need towels, washcloths, shampoo/body wash, diapers, and clothes. Use the tips below to help keep your baby safe.
Caution
To avoid scalds, turn your hot water heater down to 120°F (48.9°C) or lower.
1. Never leave your baby alone in a bath
Even an inch of water can be deadly for a newborn.

If you must leave the room, always take the baby with you.
2. Put the water into a small tub
A small tub lets you control the water temperature for baby's bath.

When adjusting your baby's bath water, start with cool water and add hot water to it.

Mix the water until it feels warm but not hot.

Always test the water temperature with your elbow, or drop water onto the inside part of your arm. You can also buy a thermometer made for testing bath water.
3. Keep your baby warm
The temperature of the room where you're bathing your baby should be about 75°F.

Keep your baby out of drafts, especially when he or she is wet.

Pat your baby dry as soon as you're done with the bath.

To keep your baby from getting a chill, cover baby's head with a fresh dry towel.

You can wash your baby's body first and then wrap him or her in a warm towel while washing the hair last. 
4. Handle with care
Clean only the parts of your baby that you can see.

Don't poke cotton swabs into your baby's ears or nose.

Wait until the umbilical cord falls off before bathing your baby in a tub. Once the bellybutton has healed, you can get baby's entire stomach wet. You can sponge bathe your baby while the umbilical cord is still attached.