Rheumatic Heart Disease
What is rheumatic heart disease?
Rheumatic heart disease is a condition in which permanent damage to heart valves is caused by rheumatic fever. The heart valve is damaged by a process that generally begins with an infection caused by streptococcus bacteria. In some cases, strep throat or scarlet fever can eventually progress to rheumatic fever.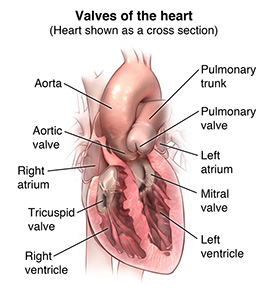 The effects of rheumatic fever:
Rheumatic fever, an inflammatory disease, can affect many connective tissues, especially in the heart, joints, skin, or brain.

Rheumatic fever can occur at any age, but usually occurs in children ages 5 to 15 years old.

Rheumatic fever causes heart damage--particularly scarring of the heart valves--forcing the heart to work harder to pump blood and may eventually cause congestive heart failure. Heart-related symptoms may take years to develop. 
What are the symptoms of rheumatic fever?
The following are the most common symptoms for rheumatic fever; however, each individual may experience symptoms differently. Symptoms, which vary greatly, typically begin one to six weeks after a bout of strep throat, although, in some cases, the infection may have been too mild to have been recognized. Symptoms may include:
Fever

Swollen, tender, red and extremely painful joints--particularly the knees, ankles, elbows, or wrists

Nodules over swollen joints

Red, raised, lattice-like rash, usually on the chest, back, and abdomen

Shortness of breath, chest discomfort 

Uncontrolled movements of arms, legs, or facial muscles

Weakness and shortness of breath
The symptoms of rheumatic fever may resemble other bone disorders or medical problems. Consult your health care provider for a diagnosis.
Treatment for rheumatic heart disease
Specific treatment for rheumatic heart disease will be determined by your health care provider based on:
Your overall health and medical history

Extent of the disease

Your tolerance for specific medications, procedures, or therapies

Expectations for the course of the disease

Your opinion or preference
Treatment depends in large part on how much damage has been done to your heart valves. It may even include surgery to replace or repair a valve.
Since rheumatic fever is the cause of rheumatic heart disease, the best treatment is to prevent rheumatic fever from occurring. Penicillin and other antibiotics can usually treat strep throat (a streptococcus A bacterial infection) and stop acute rheumatic fever from developing.
People who have previously contracted rheumatic fever are often given continuous (daily or monthly) antibiotic treatments, possibly for life, to prevent future attacks of rheumatic fever and lower the risk of heart damage. Antibiotic therapy has sharply reduced the incidence and mortality rate of rheumatic fever or rheumatic heart disease. To reduce inflammation, aspirin, steroids, or nonsteroidal medications may be given. Surgery may be necessary to repair or replace the damaged valve.