Recreation Therapist
What is a recreational therapist?
Recreation therapy is a planned, organized, and therapeutic recreation program designed to help patients develop social skills and learn to participate in leisure group activities. The focus of recreational rehabilitation programs for people with disabilities involves the following:
Involving the patient in leisure activities

Developing or restore social functions

Preventing loss of physical capacities
Programs are designed to meet the patients' capabilities, needs, and interests.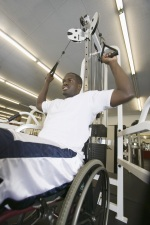 The recreational therapist may guide or instruct patients in the following areas:
Relaxation techniques, such as deep breathing, to help reduce stress and tension

Stretching and limbering exercises

Individual and group sport activities

Leisure activities, such as arts and crafts, games, or dramatics

Special outings, such as ball games, sightseeing, or picnics
Recreation therapists may practice in a variety of settings, including the following:
Hospitals

Inpatient rehabilitation centers

Long-term care facilities

Residential facilities

Schools
Recreation therapists are graduates of an undergraduate program in therapeutic recreation, and many are certified in their specialty.