Radiation Therapy: Resources to Help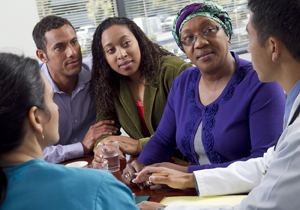 When you found out you had cancer, you most likely have had questions about treatment. You are not facing cancer treatment alone. Loved ones, support groups, and counseling can help you. Keep a list of any questions you have for your radiation therapy team. Ask these questions during your visits, or call if you need to.
You can learn more about radiation therapy from the resources below.
Radiation therapy uses high-energy X-rays to kill cancer cells. It can cause side effects that depend on:
What type of radiation therapy is done

What part of your body receives the radiation

How long your treatment lasts
Cancer resources
To learn more about cancer and radiation and to find support groups, contact the resources below:
American Cancer Society
800-227-2345
www.cancer.org

National Cancer Institute
800-422-6237
www.cancer.gov

American Society for Radiation Oncology 
703-502-1550
www.rtanswers.org