Preventing Skin Cancer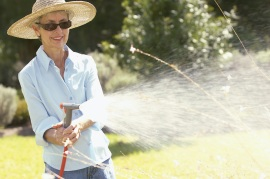 The following steps have been recommended by the American Academy of Dermatology and the Skin Cancer Foundation to help reduce the risk of sunburn and skin cancer:
Minimize exposure to the sun at midday, between the hours of 10 a.m. and 4 p.m.

Apply sunscreen, with an SPF-30 or higher, that protects against both UVA and UVB rays, to all areas of the body that are exposed to the sun.

Reapply sunscreen every two hours, even on cloudy days. Reapply after swimming or perspiring.

Wear clothing that covers the body and shades the face. Hats should provide shade for both the face, ears, and back of the neck. Wearing sunglasses will reduce the amount of rays reaching the eye, and protect the lids of our eyes as well as the lens.

Avoid exposure to UV radiation from sunlamps or tanning beds.

Protect children. Keep them from excessive sun exposure when the sun is strongest (between 10 a.m. and 4 p.m.), and apply sunscreen liberally and frequently to children 6 months of age and older.

The American Academy of Pediatrics (AAP) approves of the use of sunscreen on infants younger than 6 months old if adequate clothing and shade are not available. Parents should still try to avoid sun exposure and dress the infant in lightweight clothing that covers most surface areas of skin. However, parents also may apply a minimal amount of sunscreen to the infant's face and back of the hands.
Remember, sand and pavement reflect UV rays even under the umbrella. Snow is also a particularly good reflector of UV rays. These reflected and intensified rays can damage the skin.