Preparticipation Physical Examinations
A preparticipation examination may be required for any child who wants to take part in a school athletic activity or in an organized sports activity outside of school.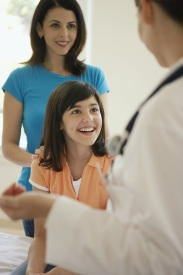 Why is a preparticipation exam important?
A preparticipation exam for your child is used to:
Find any medical or physical problems that could make participation a risk

Find any medical or physical problems that could be corrected to make participation more beneficial

Help maintain health and safety

Make sure your child is fit enough to participate in the activity

Teach your child about the activity

Meet all the legal and insurance requirements for participation in the activity
When is preparticipation exam needed?
Preparticipation exams are usually required before starting an activity and may be required again if treatment is needed before clearance is given. If your child is injured while playing the sport, he or she may need to have another examination for clearance to return to play. How often your child needs to have an exam depends on the activity and the local laws governing the activity. In many cases, annual examinations are required.
What's involved?
Preparticipation exams usually require a medical history and physical examination by a qualified medical professional, such as your pediatrician. In many cases, a specific form will need to be filled out. Sometimes, your family doctor will be able to do the exam and fill out the form, but in other instances the examination may have to be done at a specified clinic.
These are the usual parts of the examination:
Past medical history. Questions will be asked about any medical conditions, such as heart problems, neurological problems, asthma, allergies, and issues involving the muscles and joints, as well as any medications your child is taking.

Previous sports history. This part of the medical history may cover questions about any fractures, sprains, and dislocations your child has experienced, including any surgeries, dental trauma, concussions, breathing problems, or restrictions from participation for any reason in the past.

Family history. Questions will cover any family history of heart disease, high blood pressure, and diabetes. It's important to mention any unexplained sudden death in a family member younger than age 50.

Physical exam screening. This may include checking your child's pulse, blood pressure, weight, and height, and doing vision and hearing testing.

Physical exam proper. This part of the physical usually includes checking the head and neck, listening to the heart and lungs, doing a neurological check, and examining the abdomen, the arms, legs, and possibly the genital area.

Diagnostic tests. Blood tests, X-rays, and cardiograms are rarely included in a preparticipation exam unless there are findings in the other parts of the exam that suggest a possible problem.
Girls usually receive the same type of preparticipation exam as boys. They may be asked if they have any problems related to menstrual periods. They may also be asked about their feelings concerning their weight and appearance, to check for an eating disorder. Girls may also be counseled about an increased risk for stress fractures and knee injuries.
Results of the preparticipation exam
After the results of the preparticipation examination are analyzed, your child will likely get one of the following recommendations:
Full participation

Partial or restricted participation

Re-evaluation after treatment

Referral for further testing

No participation in the activity
A preparticipation examination is a good way to make sure your child can safely enjoy an organized physical activity. It is also an opportunity to learn about the activity and the potential risks of participation. And the good news is that of roughly 10 million preparticipation examinations, only about 1 percent result in disqualification.