Preparing for Jaw (Orthognathic) Surgery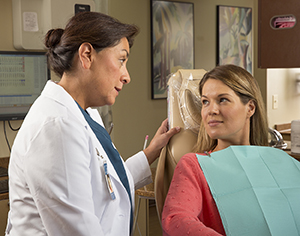 You have been scheduled for orthognathic surgery. This is treatment that reshapes or realigns the jaws and teeth to improve their form and function. It is done by an oral and maxillofacial surgeon. During the months leading up to surgery, you'll work with your orthodontist. Your treatment may take several years to complete. Your orthodontist will keep your surgeon updated on when your teeth are likely to be in the right positions for surgery. You'll be given plenty of time to get ready for surgery and plan your recovery.
Seeing your orthodontist
During this period, you'll see your orthodontist often. At these visits, he or she will check your progress. Your braces may be adjusted. More records may be taken. These may include photos, X-rays, and models that document the position of the teeth and jaws. Your orthodontist will tell you if the timeline for your surgery needs to be revised, and will update your surgeon. Discuss any concerns about your bite with your orthodontist.
Meeting with your surgeon
Shortly before surgery, you'll meet with your surgeon. He or she will evaluate your progress and finalize the surgical plan. You'll discuss factors that could affect surgery, such as medicines and allergies. You'll also have an exam and blood tests taken to make sure you're healthy enough for surgery. Depending on different factors, you may also need other tests, such as a chest X-ray.
Before surgery
Surgery takes place in a hospital or surgery center. A day or 2 before your surgery:
Stock up on liquid foods you can eat without chewing. These include total-nutrition drinks, soup, and milk. Foods that are easy to turn into liquids (liquefy), such as bananas, are good, too.

Have a blender available to liquefy foods easily.

Arrange for an adult family member or friend to give you a ride home and stay with you after surgery.

Follow any directions you are given for not eating or drinking before surgery.

Ask the surgeon whether you should take your regular medicines before surgery. If so, take them with small sips of water.
Preparing for your surgery
During the months before surgery, there's a lot you can do to make your treatment and recovery easier. For example:
If you smoke, quit. Smoking increases the risk for complications during surgery. It slows healing after surgery. It can also cause or worsen gum disease. The sooner you quit, the better. Ask your primary healthcare provider to help you make a plan to quit smoking.

Arrange for the time off to recover. Planning in advance helps make your absence from school or work go smoothly. Ask your surgeon how long your home recovery is likely to take. Depending on how you feel, you may be able to return to school or work 1 to 3 weeks after surgery. But your jaw can take about 6 weeks to heal at first. It can then take between 9 and 12 months to fully heal.

Learn about your recovery. After surgery, you won't be able to chew at first. In some cases, the jaw is held shut (immobilized) for about 2 weeks. So you'll need to learn what to eat, how to eat, and how to stay comfortable. Any pain after surgery can be controlled with medicine.

Make medicine changes as directed. Be sure your surgeon knows about any medicines (both prescription and over the counter), herbs, or supplements you take. You may be advised to stop taking certain ones a few weeks before surgery.