Preparing for a Visit with Your Healthcare Provider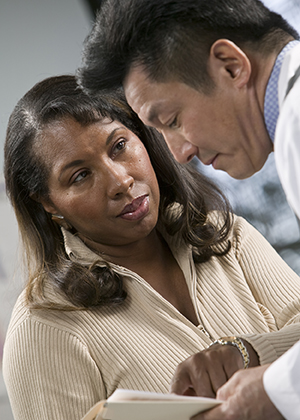 Do you find that you make an appointment with your healthcare provider, only to forget half your questions once you're in the exam room? Does your healthcare provider ask you questions during a visit that you can't answer? Preparing for a healthcare provider visit can help you get the most out of your healthcare. Below are tips for helping you prepare for a visit to your healthcare provider.
What to bring to your healthcare provider visit
Suggestions of what to bring include:
A list of your medicines

A list of other healthcare providers you see

Information about your family history

A list of questions you have and anything you want to tell your healthcare provider

A family member or friend to help you

Copies of relevant records and tests from other hospitals or healthcare providers 
Gather your medical history
To do this:
Write down all the medicines and supplements you take. Include the dose and number of times a day you take it. Or, if you wish, just put everything in a bag and take it with you.

Make a list of names of other healthcare providers you see for treatment.

Make a list of your medical conditions, past hospitalizations, surgeries, and allergies. 

Make a copy of all your medicines, allergies, and surgeries for your healthcare provider to have on file. 
Gather your family history
On a piece of paper, write your name and the names of your brothers and sisters. Below that, write the names of your parents, aunts, and uncles. Below that, write the names of your grandparents. Next to each name, write the person's date of birth and list any health problems you know about. If the person has died, note the date and cause of death.
Organize your thoughts
Make a list of what you want to tell your healthcare provider and questions you want to ask. Mention how you've been feeling since your last visit. Speak up about any changes you've noticed, new symptoms you have, or anything else the healthcare provider should know.
A family member or friend can help
Ask a family member or friend to come with you to the healthcare provider. They can:
Drive you to and from your visit

Make you feel comfortable and more confident

Remind you what you planned to tell or ask

Take notes

Help you remember what the healthcare provider says
Healthcare providers
Healthcare providers give general medical care and guide patients through the medical system.
Healthcare providers can be doctors:
Family practice doctors

Internal medicine doctors

Obstetricians and gynecologists (OB/GYN; for women)

Specialists who focus on one part of the body or one type of procedure (such as surgeons and cardiologists) 
Healthcare providers can also be other trained medical professionals:
Physician's assistant (PA)

Physical therapist (PT)

Nurse practitioner (NP)

Social worker

Speech therapist

Psychologist

Dietitian

Nurse