Playground Safety
A great way to help kids be healthy is to have them get outside and play. Playgrounds are a good place to start. But playgrounds can have safety hazards. Every year, thousands of children are injured on playgrounds, and some are even killed. Here's how to keep your kids safe on the playground.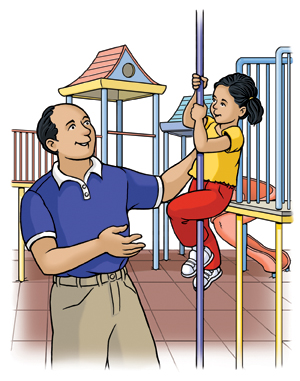 Keeping your child safe
Try these tips for playground safety at the park, at school, and at home:
Always supervise your child. Keep an eye on your child at all times, no matter where he or she is on the playground.

Teach your child how to use all equipment safely. Make sure he or she understands your rules for the playground and follows any posted rules.

Have your child wear sturdy, closed-toe shoes while playing. Avoid sandals, flip-flops, and bare feet.

Remove necklaces, scarves, and drawstrings from your child's clothing. These can become tangled with playground equipment and strangle your child.

Remove bicycle helmets before playground play to keep your child from being strangled by helmet straps.

Check the temperature of playground equipment. For instance, in hot weather, make sure monkey bars and metal slides are not too hot to touch.
Checking playgrounds for safety
Make sure a playground is safe before your child plays there. If you find unsafe conditions, report them right away to the owner or operator of the playground. And be sure to do the following:
Check for safety hazards:

Make sure surfaces are free of dangerous objects. These include pieces of glass, used syringes, broken equipment, and tripping hazards, such as tree stumps and rocks.

Make sure there is no standing water. This can pose a drowning risk for young children.

Make sure playground equipment:

Is appropriate for your child's size and age.

Is free of broken or missing parts, and is in good condition. For instance, chains on swings should be securely attached.

Has no rust, splintering wood, chipping or peeling paint, protruding nails or screws, or open "S" hooks.

Has guardrails around raised surfaces and platforms to prevent falls.

Has 9 feet of space between all play structures more than 30 inches high.

Has no openings between 3½ and 9 inches wide. This keeps your child from getting his or her head stuck.

Examine surfacing around playground equipment:

The safest surfaces are rubber tiles, mats, or poured rubber. They provide a cushion in case of a fall. Other acceptable surfaces include loose-fill materials, such as wood chips, shredded rubber, sand, or pea gravel.

Surface fill should be at least 12 inches deep. Make sure it does not hide hazardous objects, such as sharp toys.

Hard surfacing should never be used. This includes concrete, asphalt, dirt, and grass.

Safe surfacing beneath playground equipment should measure at least 6 feet out in all directions.
Resources
For more information on playground safety, explore the following resources online:
National Program for Playground Safety
www.playgroundsafety.org

U.S. Consumer Product Safety Commission
www.cpsc.gov

National Recreation and Park Association
www.nrpa.org
Your home playground
A home playground can be a convenient place for your child to have fun and exercise. But it has risks, too. In fact, many playground injuries happen at home playgrounds. Here are tips to keep your home playground safe for your child:
When buying equipment, make sure it's appropriate for your child's age and abilities.

Be aware of the equipment's safety features. And don't assume it's safe, even if it's a popular product.

Make sure equipment is safely anchored into the ground.

Inspect and maintain the equipment often.