Play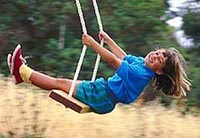 Play is a very important part of development for your growing child. Not only is play time entertaining for your child, but it also provides stimulation, increases skills and coordination, provides an outlet for your child's energy, and helps to encourage exploration by your child. Play is also important for the following reasons:
Play can help to teach your child concepts of shapes, numbers, colors, different sizes, and textures.

Play can help your child become a social being and encourage your child to be a part of a group and to share.

Play allows for creativity and fantasy.

Play helps children discover what they enjoy and what they excel at doing.

Play provides a means (other than talking) for your child to express his or her fears, needs, and wants.
Listed in the directory below you will find some additional information regarding the different types of play, for which we have provided a brief overview.
Stages of Play
Infant Play
Toddler Play
Preschool Play