Planning for Travel When You Have Diabetes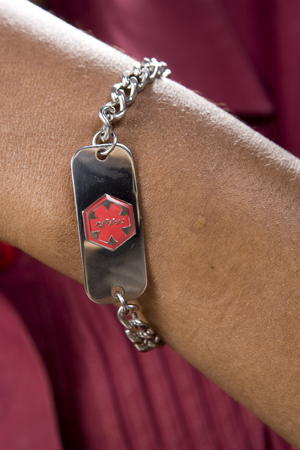 Taking care of your diabetes means having a routine for things like meals, exercise, and medicine. But sometimes this routine is disrupted when you travel. Your healthcare team can help you work out a plan to be ready for these cases. These tips can help.
When you travel
On your trip, stick to your meal and exercise plans as much as you can:
Carry a letter from your provider. Ask your provider to include how your diabetes is treated (insulin shots or pills). Have your provider list the type of insulin, syringes, and any other medicines or devices you use.

Bring a prescription for your insulin shots or pills. Carry extra medicine for your trip. The prescription will help if you have a long delay or an emergency.?

Wear an ID necklace or bracelet that says you have diabetes.

Keep your diabetes kit with you. Don't put it in your luggage.

Pack double the medicine and supplies you think you will need. Try not to put them all in the same bag.

On train, bus, or plane trips, take a walk in the aisle at least every 2 hours.

Always carry a source of fast-acting sugar with you. This might be glucose tablets or hard candies. Don't use sugar-free candy.

If you need vaccines, get these a few weeks ahead. This will let you recover from any side effects.

Tell the airline ahead of time so that a healthy meal can be made for you.

Carry extra snacks such as crackers, cheese, or fruit in case meals are delayed.

Drink plenty of water, especially when traveling by air.

If you're traveling across more than 2 time zones, ask your healthcare provider how to change your medicine or insulin schedule.

Protect your feet. Never go barefoot. Be very careful on hot pavement by pools and hot, sandy beaches.

Check your blood sugar levels often. Changes in time zones, what you eat, and how much you exercise can cause blood sugar changes.?

Wash your hands often with soap and water.?

If you travel by air, don't remove the prescription label from the insulin bottles and supplies. TSA security agents may want to see these to let you carry them through security check. Tell the screeners if you are wearing an insulin pump before going through body scanners or personal screenings. 
Be prepared
Tips to be prepared while traveling:
Keep a diabetes kit. Include your blood glucose meter, batteries, test strips, and a lancing device. Also include fast-acting sugar, extra medicine, syringes if needed, and copies of prescriptions. Use a case made to carry diabetes supplies. Or use a makeup case, a belt pouch, or briefcase.

Take your diabetes kit with you everywhere, just like you take your wallet and keys. Try to find a case for your insulin that is heat-resistant if you will be visiting a warm region. 

Wear an ID bracelet or necklace that says you have diabetes.

Store supplies at work as well as at home.

Carry your health insurance cards, emergency phone numbers, and your healthcare provider's phone number with you. If you are traveling with someone, give them copies as well.