Mouth and Throat Tumors
Finding out you have a tumor is scary. You may wonder what effect it will have on your life. As you and your doctors decide on your treatment, some of your concerns will be resolved. And, moving forward, your health care team can help you learn ways to help yourself.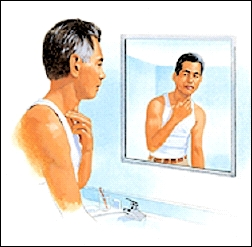 What is a tumor?
A tumor is a mass of abnormal cells. It is either benign (slow growing, not cancerous) or malignant (fast growing, cancerous). Some tumors, especially cancerous ones, can be life-threatening. But most tumors can be treated.
Risk factors for a cancerous tumor
You are more likely to get a tumor of the mouth or throat if you:
Smoke cigarettes, pipes, or cigars

Use chewing tobacco or snuff

Drink alcohol

Take poor care of your teeth

Have poor-fitting dentures that irritate your mouth

Are exposed to certain industrial chemicals

Had a mouth or throat tumor in the past

Have a human papillomavirus (HPV) infection
Signs and symptoms of a tumor in the mouth
If you have a mouth tumor, you or your doctor may have noticed one or more of the following:
White or red patches on tissues or gums

Pain that doesn't go away

A sore that doesn't heal in a week or two

Bleeding that doesn't stop after a few days

A swelling or lump that doesn't go away

Problems with your teeth, dentures, or chewing
Signs and symptoms of a tumor in the throat
If you have a throat tumor, you or your doctor may have noticed one or more of the following:
Hoarseness that doesn't go away

Trouble swallowing

A lump in your neck

Pain that doesn't go away

Aching, pain, or pressure in your ear

Persistent coughing with or without bloody sputum