More Tips for Healthy Eating Out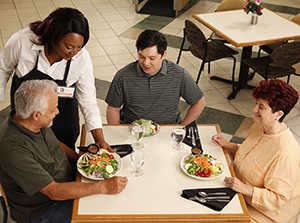 Be creative when eating out. Many places don't make you stick strictly to the menu. Instead of ordering a large entree, choose an appetizer or two and a bowl of soup. A mix of side orders can also make a good meal. Read the descriptions of other entrees and specials. If another entree comes with baby carrots, ask for a side order of them even if they don't come with your entree. Ask how food is prepared or if it can be made differently.
Tips for making the most of your meal out
Ask to have high-fat, high-calorie extras, such as French fries and potato chips, left off your plate so you won't be tempted. 

Ask what substitutions are available. Instead of French fries, you may be able to have a side of salad with low-calorie dressing.

Order low-fat milk instead of cream for your coffee.

Ask for vegetables and main courses to be served without sauces, butter, margarine, or oil.

Be aware of portion size. You don't have to clean your plate. Take half your meal home in a "to go" box to eat the next day.

Look for heart-healthy or low-fat entrees that include whole-grains, vegetables, or fruits.

Choose foods that are grilled, broiled, or steamed.

Avoid dishes that are described on the menu as fried, breaded, smothered, rich, or creamy.