Maximizing Surgical Safety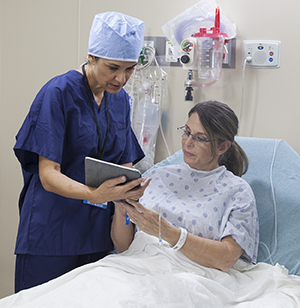 When you have surgery, your surgeon and other healthcare providers will do all they can to ensure your safety. But surgery is a complex process. There's a lot you can do as a patient to help your healthcare team keep you safe. Here are some steps you can take before and after surgery to help make your operation safe and successful.
You have a right to speak up
Having surgery can be an intimidating experience. You may be confused about what will be done for you. Or you may feel shy about asking questions. It's important to know that you can, and should, speak up for yourself. You have a right to know what is happening to you. This knowledge can give you peace of mind. Not only that, it can help you make sure you get the best care possible. So don't hesitate to speak up!
Having an advocate can help with this. This is a family member or friend who comes with you to the healthcare facility. He or she listens to what the healthcare providers tell you, asks questions, and helps ensure that things go smoothly. He or she can help you get the care you need to feel safe and comfortable. If you don't have a family member or friend to serve this role and you feel you need extra help, ask the doctor or nurse for assistance.
Prepare for surgery
To help you prepare before your surgery, do the following:
Write down any questions you have about the procedure and recovery. Then, be sure to ask your doctor for the answers. For instance:

Confirm what the surgery is called, what it's for and what to expect.

Ask if there are any medicines that you should not take before surgery. Ask about prescription and over-the-counter medicines (especially aspirin, anti-inflammatory drugs, or blood thinners), as well as supplements.

Ask about any special needs you'll have after surgery. For instance, you may need special supplies or equipment to help with your recovery.

Find out when you should stop eating and drinking before surgery.

Ask a family member or friend to act as your advocate. He or she should take you to and from the healthcare facility, and when possible, stay with you there.
Before surgery
At the healthcare facility, be sure to check the following:
Your informed consent form. You'll be given this form to sign. It will tell you about the procedure you're going to have and its risks. Read it carefully so you understand everything on the form. And check that the details on the form, such as your personal information, the type of surgery you're having, and the exact site of surgery on your body, are correct. Your signature on this form confirms that all of your questions about the surgery have been answered. If you have unanswered questions, ask them before signing the form.

Your patient-identity bracelet. Make sure the information on this bracelet is correct. And have anyone who gives you medicine or treatment check this bracelet first.

The surgical location. Your surgeon or a nurse will mark the area of your body where the surgery will take place. This helps ensure that the correct body part is operated on. If the mark is made while you are awake, confirm that it's in the correct location. If you are not awake when the mark is made, have your advocate confirm the location.
You can also ask questions to check that steps are being taken to maximize your safety. Feel free to make sure:
Each of your healthcare providers knows who you are and why you're there. Don't be afraid to introduce yourself. You can also mention what surgery you're having.

Information has been passed on. Check that your healthcare providers know about all medicines you're taking. This includes prescription and over-the-counter medicines, as well as supplements. Also tell them about any allergies you have, such as allergies to medicines and to latex. And confirm that they are familiar with your medical history and with the results of any tests you've had done.

Possible problems are avoided. For instance, if healthcare staff are preparing your leg for surgery and you're scheduled for an operation on your arm, there is clearly a problem. Anytime you think there may be a problem, speak up!

Good handwashing techniques are being used. There are many germs in healthcare facilities, and germs can cause infection. One of the best ways to keep germs from spreading is keeping hands clean. Wash your hands often. Be sure your family and friends wash their hands when visiting you. Also, check that healthcare providers either wash their hands or use alcohol-based hand gels before treating you. Don't be afraid to ask doctors or nurses to clean their hands.

A surgical safety checklist will be used. The World Health Organization (WHO) has issued a surgical safety checklist for surgical healthcare providers to use. Also, the American College of Surgeons has issued guidelines for surgical safety. You can ask your surgeon if he or she uses these tools to help ensure surgical safety. You can find them online.

After surgery
Your surgery is done and you're recovering in the healthcare facility or ready to go home. Now you can help make sure your recovery goes well. Check that you have the information you need about the following:
When to call your doctor. For instance, you should call if you have signs of infection, such as fever. Find out what other problems should prompt a call to your doctor.

Medicine. Ask about any medicine prescribed for you. Find out what each medicine is called, what it's for, how often to take it, and if it has any side effects. Also ask when you can resume taking your regular medicines and whether your new medicines and your routine medicines might interact.

Pain management. If you have pain, talk to your doctor. Learn what you should do to manage it.

Wound management. Ask when you should remove the outside dressing, change dressings, and when you can shower or bathe. Ask what signs of infection you should ask for.

Follow-up care. Ask when you should have a follow-up visit with your doctor. Also find out if you'll need any kind of physical therapy or other outpatient services. Always keep follow-up appointments.

Returning to normal activities. Find out when you can safely return to work, activity, and exercise.
For the advocate: Looking out for your loved one
Your loved one is having surgery. This can be a difficult time, and your loved one may not be able to ask questions or look out for him- or herself as well as usual. You can help. Listen carefully to everything the healthcare providers tell your loved one before and after the surgery. Feel free to take notes and ask questions. Also, look out for possible problems, such as any confusion over the treatment needed. And if you suspect a problem, speak up!