Kidney Failure: Your Healthcare Team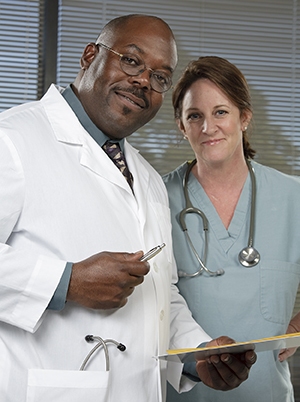 The members of your healthcare team are the people who work with you to manage your treatment. They will guide you through your choices and teach you how to live with kidney failure. They can also address your concerns and give you support. Work with your team to ensure that you feel your best.
The members of your team
These are some of the people who make up your healthcare team. You may already know a few of them:
A nephrologist is a doctor who treats kidney problems. He or she prescribes your treatment.

A primary care doctor who sees you for wellness care and acute and chronic conditions. He or she will continue to care for your kidney disease, but will be joined by the nephrologist and other team providers.

An advanced practitioner who may be a nurse practitioner or a physician's assistant. He or she works with a doctor specialist, like a nephrologist, or your primary care doctor.

A nurse works with you and your doctors to manage your care and help you learn what you need to know about your treatment.

A dialysis technician assists with dialysis treatment.

A surgeon is a doctor who performs procedures to help with dialysis or who does a kidney transplant.

A dietitian (also called a nutritionist) teaches you which foods and fluids to eat and drink and which to limit.

A social worker can help you deal with paperwork, insurance, your work and family life, and any stress you may feel.

A pharmacist is an expert in medicine and how much of them to take. The pharmacist can teach you the correct way of taking your medicines. He or she can also tell you how to watch for any side effects or interactions between the medicines you take.