Incision Care: Abdomen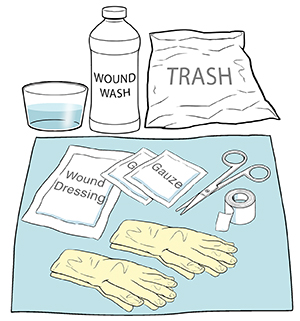 Dressing your incision helps keep it clean, dry, and infection-free. That way it will heal faster. Follow the steps below.
1. Wash your hands and set up
Use liquid soap. Lather for 1 to 2 minutes. Scrub between your fingers and under your nails.

Rinse with warm water, keeping fingers pointing down. Use a clean paper towel to dry your hands and turn off the faucet.

Put all your supplies on a clean cloth or paper towel. Open a plastic trash bag.

Peel back the edges of the dressing packages. Pour any irrigation solutions into solution cups.

Clean the scissors with soap and water. Cut each piece of tape 4 inches longer than the dressing.
2. Remove the old dressing
Put on disposable gloves.

Loosen the tape by pulling gently toward the incision. Remove the dressing one layer at a time. Put it right into the plastic bag.

Remove your gloves and put them in the plastic bag. Wash your hands again, as described above. Then put on new gloves.
3. Clean and dress the incision
Clean the incision and apply a new dressing as directed.

Put all used supplies in the plastic bag.

Remove your gloves last and put them in the bag.

Seal the bag and put it in the trash.

Be sure to wash your hands again.
When to seek medical care
Call your healthcare provider if any of these happen:
Your incision suddenly opens

You have bleeding from the incision, or an increase in its size

Increased redness, swelling, or drainage

Pain in or around the incision

Change in the color of the incision

Fever of 100.4°F (38°C) or higher, or as directed by your healthcare provider