Topic Index
Breast Health
Colorectal Cancer
Diabetes (Type 1, 2, and Gestational)
Gynecological Concerns
Heart Attack (Myocardial Infarction)
Hysterectomy
Infertility
Menopause
Mental Health
Osteoporosis
Skin Cancer
Urinary Conditions
Health Promotion and Prevention
Sports Injuries
Glossary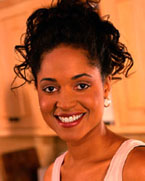 If you're a woman, this is the place to learn about the anatomy, functions, and systems of your body. Labeled medical illustrations and simple definitions are provided. Learn ways to keep your body healthy, including monitoring breast and gynecological health, heart health, and mental health.
Many different diseases and conditions affecting women require the care of a health care provider. Knowledge of a condition's symptoms, risk factors, prevention approaches, diagnostic tests/procedures, and available treatments all help you make more informed health care choices.
One thing you can count on throughout your adult years is that you will have continually changing medical needs.