Topic Index
Bone Marrow
The Heart
The Kidneys
The Liver
The Lungs
Chronic Illness and Transplantation Issues and the Adolescent
Glossary
The first successful adult human kidney transplant was done in 1954. Since then, many successful organ transplants have been done. Transplants now involve every major organ. Transplantation of various organs, tissues, and cells (such as kidneys, hearts, lungs, livers, and bone marrow) are now possible in children. Survival is steadily increasing, and successful transplants now lead to an improved quality of life.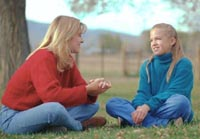 Medical technology continues to improve, and transplantation has become a life-saving procedure for many children with congenital (from birth) or chronic conditions or diseases. Research studies continue to focus on preventing graft rejection and developing new antirejection drugs and therapies that are less toxic and more effective.
Scientists also continue to learn about the body's immune system. This helps further the understanding of transplantation and other immunologic diseases and conditions.