Topic Index
Surgical Overview
Preoperative Management
Preparing a Child for Surgery
Surgery and the Breastfeeding Infant
The Day of Surgery
Intraoperative Care
Postoperative Care
Glossary
Surgery is a way of treating a disease, injury, or other disorder. Surgery means treating the problem with instruments or other physical means.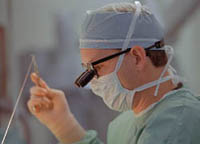 Surgery involves cutting into the skin or other organs to help bring the body back to a healthy state.
Surgery can help diagnose a problem, take a sample (biopsy) of a suspicious lump, or remove diseased tissues or organs.
In addition, surgery may be done to remove a blockage, put structures in their normal position, redirect channels, or transplant tissue or whole organs.
Surgery can place mechanical or electronic devices in the body. It can improve the way a person looks or fix an area that has been injured by trauma, overuse, or disease. It can bring back proper function, and relieve pain.
Each year, many children face surgery. Some operations are done by choice. Others must be done for good health. And some are done in an emergency for an urgent medical condition.
The entire family should expect to go through 4 phases during surgery:
Diagnosis. Medical tests and evaluations show that your child needs surgery.

Before surgery. This phase lasts from the time surgery is decided to the point that surgery is about to begin.

Surgery. This phase lasts from the time your child enters the operating room to when he or she goes to the recovery room.

After surgery. This phase lasts from the time your child is in the recovery room to a follow-up visit with the health care provider.