Topic Index
Statistics
Anatomy of a Joint
About Pediatric Arthritis and Other Rheumatic Diseases
Diagnosing Pediatric Arthritis and Other Rheumatic Diseases
Common Types of Pediatric Arthritis and Other Rheumatic Diseases
Treatment for Pediatric Arthritis and Other Rheumatic Diseases
Living With a Rheumatic Disease
Glossary
Arthritis and other rheumatic diseases are characterized by pain, swelling, and limited movement in joints and connective tissues in the body. Millions of people in the U.S. suffer from arthritis in one form or another.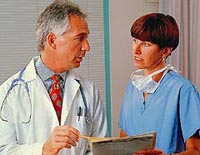 Arthritis, which literally means inflammation of a joint (where two or more bones meet), actually refers to more than 100 different diseases. Rheumatic diseases include any diseases that cause pain, stiffness, and swelling in joints or other supportive body structures, such as muscles, tendons, ligaments, and bones. In fact, the group of arthritis diseases falls under the category of rheumatic diseases.
Arthritis and other rheumatic diseases are often mistakenly associated with old age, because osteoarthritis occurs more often among older adults. However, arthritis and other rheumatic diseases affect people of all ages.