Topic Index
Overview of Orthopedics / The Orthopedic Team
Common Orthopedic Disorders
Evaluation Procedures
Treatment Plans
Sports Injuries
Glossary
Orthopedics is the branch of medicine concerned with diseases, injuries, and conditions of the musculoskeletal system, or the body's muscles and skeleton, including the joints, ligaments, tendons, and nerves.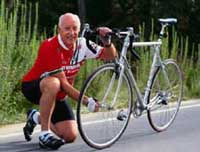 Orthopedic surgery is made up of doctors and other health care professionals who provide comprehensive orthopedic services. Their expertise provides treatment and care of diseases, injuries, fractures, and pain.
Orthopedists also design rehabilitation programs for the injured or physically disabled and participate in ongoing musculoskeletal research.