Topic Index
Conditions Investigated by Environmental Medicine Programs
Accomplishments of Environmental Medicine Programs
Epidemiology
Current Investigations in Environmental Medicine
Environmental Disease Factors
Glossary
Human health and human disease result from three interactive elements -- environmental factors, individual susceptibility, and age.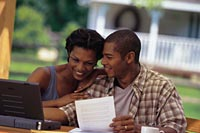 Environmental medicine is the health care specialty concerned with human illnesses or dysfunctions that result from environmental factors. Environmental medicine specialists participate in a wide range of activities in their quest for answers regarding how the environment affects our health.
Environmental medicine departments or programs are found in large medical centers throughout the U.S. Some of the many services they offer include local, state, or national disease-prevention programs; epidemiological studies and research; and distribution of standards, guidelines, and recommendations. In addition, they partner with other organizations, such as health departments and environmental agencies, to help prevent environmental disease.