Topic Index
The Digestive System - An Overview
Diagnostic Procedures
Problems in Prenatal Development of the Digestive Tract
Common Children's Digestive Problems
Problems Affecting the Upper Digestive Tract
Problems Affecting the Lower Digestive Tract
Inflammatory and Infectious Disorders
Liver Disorders
Glossary
Digestive disorders can affect both infants and children. These disorders can be simple problems, such as vomiting or diarrhea. Or they can be more serious. Examples of these are birth defects or illnesses like appendicitis.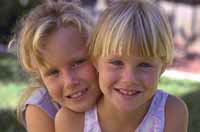 A healthy digestive system processes the food your child eats. Food contains vitamins, minerals, proteins, carbohydrates, and fats. These nutrients are vital. They help the body grow, heal, and work as it should.
Vomiting or diarrhea every now and then may cause dehydration. But long-term problems with the digestive system or liver can cause your child to not get the nutrients he or she needs. This can affect his or her physical and mental growth and development.
Some digestive disorders, such as vomiting or diarrhea, may be treated by your child's health care provider. Other times, your child's health care provider may refer you to a doctor who specializes in children's digestive and liver disorders. This specialist is known as a pediatric gastroenterologist..
  .