Topic Index
Anatomy of the Skin
Skin Tests
Describing a Skin Condition
Common Dermatological Procedures
Common Skin Disorders
Skin Growths and Pigmentation Disorders
Skin Inflammation (Rashes)
Skin Injury
Skin Sweating Disorders
Skin Infections
Scars
Hair Problems
Glossary
The skin is the largest organ of the body, covering the entire body. As the outer protective covering of the body, it is exposed to the environment, making it vulnerable to growths, rashes, discoloration, cysts, burns, injuries, infections, and other disorders.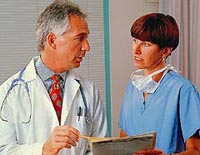 Dermatology is the study of skin diseases and conditions. A dermatologist treats disorders relating to the skin, hair, and nails. A dermatologist is a physician who has completed medical school, at least one year of postdoctoral training and three or more years of intensive residency training in dermatology. After medical school, internship, and residency, a dermatologist is eligible to take the board certification examination offered by the American Board of Dermatology.
Other physicians and skin specialists may be involved in the prevention and treatment of skin disorders, including pediatricians, internists and rheumatologists.